Kaspersky Lab's 'Spam and Phishing in Q2 2018' report found that in the second quarter of 2018, the company's anti-phishing technologies prevented over 107 million attempts to visit phishing pages, of which over one third (35.7%) of attempts were related to financial services, targeting customers via fraudulent banking or payment pages. The IT sector was hit the second hardest, with 13.83 percent of attacks targeting technology companies, which is a 12.28 percent increase compared to the previous quarter.
The results in the report demonstrate that in order to protect their money, users should be extremely cautious about their security when browsing the internet. Attacks on customers of financial organizations, including banks, payment systems and e-shop transactions, is a continuing trend in cybercrime, involving the theft of money as well as personal data. By creating fraudulent pages of banking, payment or shopping sites, intruders harvest sensitive information from unaware victims, including their name, password, email addresses, phone numbers, credit card information and PIN code.
The second quarter of 2018 flustered users of financial services, with nearly a quarter (21.1%) of attacks featuring banks, followed by e-shops (8.17%) and payment systems (6.43%). Brazil remained the country with the largest share of users attacked by phishers in the second quarter of 2018 (15.51%). This was followed by China (14.44%), Georgia (14.44%), Kirghizstan (13.6%) and Russia (13.27%).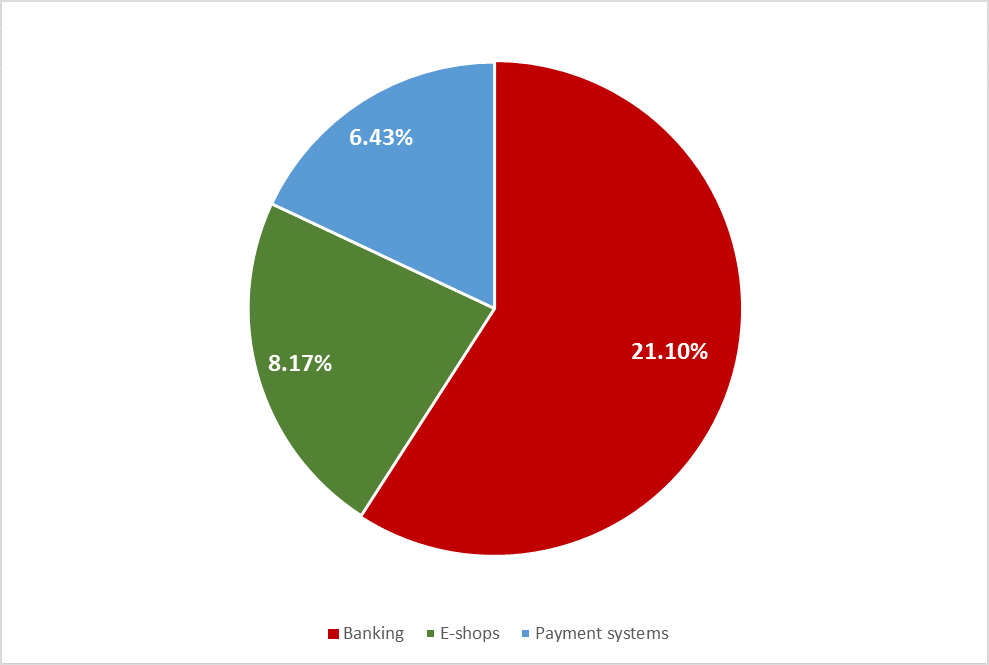 The distribution of different types of financial phishing attacks detected by Kaspersky Lab in Q2 2018
Furthermore, there were almost 60,000 attempts to visit fraudulent web pages featuring popular crypto-currency wallets and exchanges from April to June 2018. In addition to traditional phishing, which helps access victim accounts and private key information, cybercriminals try to force their victims to independently transfer crypto-currency to them. One of the tactics is free distribution of the crypto-currency, while another is for scammers to exploit the names of new ICO projects to raise funds from potential investors. Using these two tricks, Kaspersky Lab estimates that intruders earned more than $2.3 million, even without taking into account any revenues from classic phishing schemes.
"The permanence of attacks targeting financial organizations reflects the fact that more and more people are using electronic money," said Nadezhda Demidova, lead web content analyst, Kaspersky Lab. "Still, not all of them are sufficiently aware of the possible risks, so intruders are actively trying to steal sensitive information through phishing."
Other key findings in the report include:
Phishing:
The main targets of phishing attacks have remained the same since the end of last year. They are primarily global internet portals and the financial sector, including banks, payment services and online stores.
In comparison with Q1, the share of attacks on financial organizations decreased by 8.22 percent, while targeting IT companies increased by 12.28 percent.
Spam:
In the second quarter of 2018, the amount of spam peaked in May (51%). The average share of spam in email traffic worldwide was 50 percent.
China became the most popular source of spam, overtaking the U.S. and Germany.
The country most targeted by malicious mail was once again Germany. Russia came second, followed by the United Kingdom, Brazil and Italy.
Image courtesy: SlidePlayer